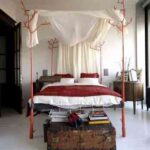 The time when canopy beds were part of the decoration became common and, because modernity imposed do more practice this entails decoration and make it easier to maintain and clean. And as pretty canopy beds for decorating bedrooms, were relegated to oblivion. But today that elegance prevail again in the decoration are taken increasingly into account in the decoration of the room with the girls and the master bedroom.
It is true that mainly were used in centuries past as a necessary element to the winter cold, it could be a little warmer than other beds, but with the advent of heating were no longer needed. Today there is heating but the new trend in bedroom decor imposes choose the most beautiful details and a canopy bed becomes the perfect way to decorate the room. And choosing materials, you can simplify your care and cleaning.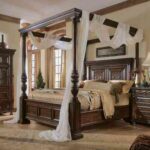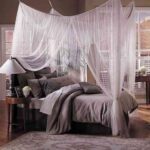 One must have the climate to purchase a poster or renew our adding one, because the canopy must be based on temperature or it can become very excessive and therefore we do without it. In places where the weather is usually very warm, the canopies are chosen lighter and vibrant colors, the opposite happens in very cold climates where the canopy is ideal for an overnight shelter from low temperatures.